DJO BIONIC™ Fullstop Orthopedic Knee Brace
FEATURES & BENEFITS:
HINGE TECHNOLOGY AND FOUR-POINT LEVERAGE SYSTEM TO STAY OUT OF THE "AT-RISK" POSITION

ANTI-MIGRATION TECHNOLOGY TO PREVENT SLEEVE MOVEMENT

REFLECTIVITY FOR ENHANCED VISIBILITY IN LOW-LIGHT CONDITIONS

COMPRESSION AND THERMAL HEAT REGULATION

ADJUSTABLE STRAPS FOR A MORE SECURE, PERSONAL FIT
IS THE BIONIC FULLSTOP KNEE BRACE RIGHT FOR ME?
Perform your best with the ultimate protection. With a sleek, low-profile, the BIONIC FULLSTOP delivers maximum support for ACL recovery and prevention. Designed with dampening hinges to prevent hyperextension and help improve joint mechanics in both surgical and non-surgical knees.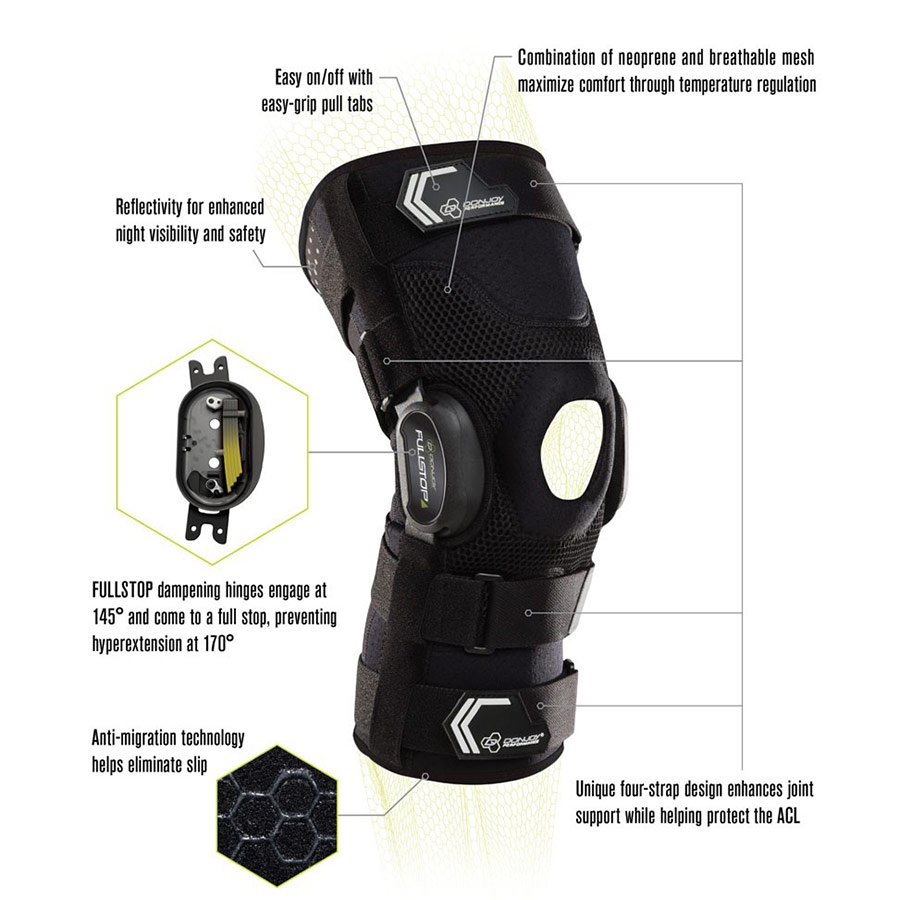 DESIGNED TO SUPPORT AND PROTECT:
ACL, MENISCUS OR PATELLA INJURIES
JOINT INSTABILITIES
MODERATE LIGAMENT AND TENDON SPRAINS
HYPEREXTENSION
BEST FOR:
ACTIVE INDIVIDUALS
SPORTS SIMILAR TO: FOOTBALL, SOCCER, SKIING/SNOWBOARDING, BASKETBALL, LACROSSE, VOLLEYBALL
THE BIONIC FULLSTOP KNEE BRACE CAN BE USED TO TREAT OR PREVENT THE FOLLOWING KNEE INJURIES:
ACL and Meniscus Injuries
Joint Instabilities
Moderate Ligament and Tendon Sprains
Hyperextension
Patella Support
THE BIONIC FULLSTOP KNEE BRACE BENEFITS
Increase circulation
Improve heat regulation
Compression
Joint and ligament support
BIONIC FULLSTOP KNEE BRACE INSTRUCTIONS
Pull up over knee so knee is in the center of the opening. Wrap and secure straps for personal fit. Adjust as needed.
BIONIC FULLSTOP KNEE BRACE CARE
After usage, we recommend you rinse it with fresh, clean water and let it air dry.
Our most stable line of sport performance bracing products, the BIONIC FULLSTOP provides the ultimate ACL protection for post-op recovery and injury prevention. Easy to put on and designed with adjustable straps for a more personal fit.
Sizing: